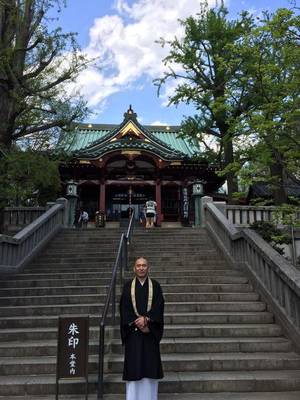 Their journey from India to Japan has morphed Hindu deities. Some must not be seen…
Along the western bank of the Sumida River, Asakusa, a popular tourist area in Tokyo, is redolent of Japanese woodblock prints from the Edo era (1603-1867). The large, 7th century Senso-ji temple and rows of traditional shops selling kimonos and handicrafts make it an old-world hold out in what can feel like a relentlessly modern city.
Amidst the quintessentially Japanese plum blossom trees and antique shops, it is jolting therefore, to stumble upon Matsuchiyama Shoden, a Ganesha temple located on slightly elevated ground by the river. But given the Hindu roots of so many deities in the Japanese Buddhist pantheon, it is not entirely surprising.
Early Buddhism was deeply intertwined with Hinduism. Consequently, many Japanese schools of Buddhism, especially those influenced by tantric thought, adopted Brahmanic and Hindu devas or gods. Some of these were co-opted in their extant forms while others became associated with particular boddhisattvas.
Indra, Yama and Lakshmi too
The Hindu god Shiva (Daijizaiten), for example, was associated with Avalokitesvara or Kannon, while Brahma (Bonten) was linked to Manjusri. Hindu deities were most commonly incorporated as guardians. Some, such as Indra (Taishakuten) and Varuna (Raijin) are ubiquitous at temple entrances. Other common devas include Yama (Enmaten), Garuda (Karura), and Lakshmi (Kichijoten). Saraswati (Benzaiten) is particularly popular and has hundreds of temples dedicated to her across the country.
However, the journey over mountains and oceans from India via China to the Japanese archipelago transformed these deities both in their physical representations and metaphysical meanings. Consequently, for the average Japanese, the Hindu underpinnings of the deities they so often genuflect before at temples have become more or less invisible. Neither the names nor the appearance of the deities betray their origins to the uninitiated.
In the case of Ganesha this invisibility is literal, since statues of the elephant-headed deity are almost never displayed public. He is considered so powerful that beholding him can be dangerous and his icons are secreted away, sometimes not even seen by the priests themselves.
The juushoku or head priest of Matsuchiyama Shoden, Hirata Shinjyun, confesses to never having looked at the temple's statue of Ganesha. In fact, the last time it was seen by human eyes was following World War II, when it was extracted from its underground wartime hiding place, and placed in an inner sanctum that has remained shut since. The priest says the secrecy surrounding the deity adds to the belief in the efficacy of its power. There are other reasons as well. Ganesha's Japanese monikers include Kangiten, Shoten and Binayaka. As Kangiten the deity is depicted in erotic embrace with another elephant-headed figure and is considered too sexually explicit for public display.
Ganesha is considered so powerful that beholding him can be dangerous and his icons are secreted away, sometimes not even seen by the priest.
Kangiten is not an entirety benevolent deva in Japanese mythology. According to myth, his mother, Uma gave birth to 1,500 evil children to her left, the first of which was Binayaka or Ganesha. To her right, she birthed 1,500 good children, the first of which was Avalokitesvara/ Kannon (the bodhisattva of compassion) in the avatar of Idaten (Skanda or Murugan in India).
In order to win Binayaka over to the side of Good, Idaten reincarnates and becomes Kangiten's wife. The bliss generated by their union is believed to convert Kangiten from evil to virtuous.
Creator of obstacles
Kangiten is therefore seen as a creator of obstacles, who is however easily placated and thereby transformed into a remover of obstacles. What appeases him are radishes.
All across the Matsuchiyama, on roof eaves, staircases and pillars, carvings and paintings of daikon (Japanese white radishes) are the main visual element that reveals the temple to be a Kangiten-worshipping one.
Radishes are on sale as offerings and the prayer hall is stacked high with these roots. But although the Japanese Ganesha has localised taste and the sugary ladoos he loves in India have been replaced by crisp daikon, he hasn't entirely lost his sweet tooth. Kangiten is also believed to calm down with sweet rice buns and a cup of sake or rice wine.
In the Edo period there were well over 1,000 temples around Japan dedicated to Kangiten. The deity was traditionally popular with business owners who prayed to him to remove impediments to their success. The Asakusa area was historically Tokyo's pleasure heartland, home to theatres, restaurants, and inns, The owners of these establishments flocked to Matsuchiyama to beg Kangiten's grace.
Today the demographic of devotees has changed. Most are in the 30-40 age group according to the temple's head priest. And many are women asking Kangiten's favour in removing the obstacles they face in finding a suitable husband. Others simply come searching for a meaning beyond the material. The juushoku says an upsurge in religion has been palpable since the 1990s, whenw the Japanese economic bubble burst, ushering in decades of stagnation.
Shrines and plaques donated by merchants and business associations dot the walkway around Matsuchiyama's main prayer hall. The priest points towards the direction of the Sumida River, explaining that in the past an unobstructed view all the way to Mount Fuji made this a popular vista for paintings. Now, the horizon is dominated by high rises amongst which the neofuturistic Tokyo Skytree rears up 634 metres into the clouds.
At the temple, paper lanterns that hang from awnings begin fluttering as a gentle river breeze cools the mid-spring afternoon. The images of intertwined radishes that are painted on them rock back and forth as though reassuring all that Kangiten is well fed and well disposed.
The writer is a globetrotter currently parked in Japan.