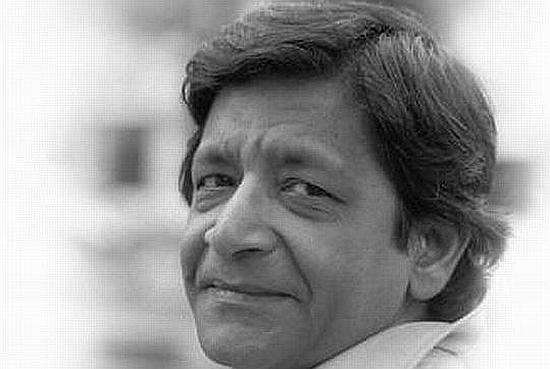 Facilitating a meeting for a celebrated writer like V.S. Naipaul with members of the Bombay mafia is not exactly a journalistic assignment. Some may consider it a welcome spin-off that comes with covering crime. Others would think of it as an evening wasted with a VIP friend or acquaintance of the editor. With so much interest in Bombay's dark underbelly in the 80s, it was not unusual for writers and foreign journalists to drop anchor in the city and look for low-life correspondents to take them on a tour of the red-light district, introduce them to massage parlour owners, pushers, drug addicts and the underworld.
In the late 80s, I was with the Indian Post, a lively daily which quickly evaporated from public memory—Google reveals little about the paper and mistakes it for the Indian Postal Service! On one business-as-usual morning, my editor Vinod Mehta asked me to call V.S. Naipaul (he had not been knighted yet or awarded the Nobel Prize) who was put up at the Taj. As a young reporter, I was naturally overwhelmed. A chance to meet a writer of Mr Naipaul's stature was a big occasion. I had heard much about him and even read A House for Mr Biswas, a dog-eared copy of which I had picked up from one of the many second-hand book stalls that lined the pavements near Flora Fountain.
I promptly called him and was told that he was researching for a book on India and I had to help by organizing a meeting between him and members of the underworld. Rather excited, I worked the phone and by lunch had fixed a rendezvous in the evening at a safe house in an upscale residential area near Shivaji Park in Dadar. I was supposed to meet Mr Naipaul in the lobby of the Taj. 'Please don't come up to my room. Call me from the reception and I will come down,' he instructed me when I called him to confirm the appointment.
We drove to Dadar in a non-AC taxi, which was rather uncomfortable given Bombay's high humidity levels. But Mr Naipul seemed not too concerned about the weather. I suspect he found the slow-moving traffic more of a bother. He didn't complain about it, but it must have been frustrating to sit in a cab for 40 minutes to crawl a distance of 15 km. En route, Mr Naipaul told me a little about his book and how it involved travelling the length and breadth of India. But he obviously did not wish to reveal too many details, and steered the conversation to Bombay's underworld. 'You have been strongly recommended…how long have you been covering crime?' I told him I had done some stories which raised a few eyebrows but couldn't claim to be a specialist or an expert.
The conversation drifted to what I would learn years later was Mr Naipaul's considered—some would say uncharitable—view of the Muslim community. He had concluded, or had been told, that the mafia in the city was made up of Muslims and Muslims alone. 'As a community they somehow seem to be historically more drawn towards crime than all the others,' he observed. I reckoned I was just an ordinary journalist to contradict such a great man, but I summoned the courage to tell him that one couldn't draw such sweeping conclusions and that crime knew no religion or region. 'Why, there are people from all communities even in Dawood Ibrahim's gang. His main man is Chota Rajan, a Hindu,' I said and went on to reel off the names of Hindus in the mafia including Amar Naik, Arun Gawli, Varadarajan Mudaliar… Given that he equated the underworld with Muslims, it was rather ironic that the safe house I took him to was occupied by hitmen, gangsters and their friends who were all Hindus. I had not planned it that way, but the meeting at short notice (Mr Naipaul wanted it over and done with in a day) was somehow ordained to be so. We reached our destination after meeting a contact at a paan shop near the Portuguese church in Dadar, who took us to the address in Shivaji Park—close to where cricketer Sandeep Patil lived. Anyone stepping into the safe house—a well-appointed ground floor flat—would think they had come to a typical upper middle-class home with a TV set and sofas in the drawing room. But once you wandered into the rooms, it resembled a Bollywood gangland set, with pistols and arms of various descriptions littered around.
Mr. Naipaul was given the pride of place next to the leader of the pack—a dark, stockily built man who did not look like he was part of the mob. In fact, one could mistake him for a stockbroker or a car spare-parts dealer who had just got off the suburban train at Churchgate. The man started talking about his life and all the gang wars he was currently embroiled in. However, seeing that Mr. Naipaul was not familiar with the various Companies and names of gangsters, he switched to things his gang actually did—eviction, kidnapping, extortion, contract killing and all the other things that are stock-in-trade for gangsters.
Because of some misunderstanding, Mr Naipaul kept thinking I had brought him to meet a Muslim gang. He had to hastily change his line of questioning once he realized he was actually dealing with Hindu gangsters. For a start, he enquired if there were any Muslims in the gang. He was told that there were indeed a few of them but as a gang leader he didn't trust members of that community in his team. In retrospect, I suspect the mafia man was perhaps playing to the gallery and saying things Mr Naipul wanted to hear. So, in the course of the next half hour or so, the man elaborated on how Muslim criminals were low class, unlike their Hindu counterparts who were decent middleclass folk with the benefit of a good education. The noted writer kept taking notes even as I was asked which British paper he was representing. When I said it was for a book he was writing, the gang leader suddenly had that vacant uninterested look. But to keep Mr Naipaul engaged, he spoke about how he believed in Santoshi Ma (an incarnation of goddess Durga), to whom he claimed the gang prayed before every operation.
Interestingly, I had been to the safe house a few weeks before. 'Gangsters are not about religion—we have to do our dhanda and we do it for the money,' I was told then. They had also boasted about the contracts they had executed and the politicians and police officers on their payroll. However, the leader was obviously being circumspect now talking to Mr Naipaul and did not disclose his political or other gangland links. Among those who were hanging around the room was a well-built young man with a bandaged hand. 'I got injured in an operation—a gang fight—which is why I'm biding my time here,' he explained. Mr Naipaul was surprised to hear him speak in English and found it perplexing that he was a dropout from an engineering college in Karnataka.
Surely things were not going by Mr Naipaul's pre-supposed script. The half-a-dozen young men present in the room were not from any Muslim ghetto off Mohammad Ali Road. Many of them not only spoke English but also claimed that they had made frequent visits to England and were familiar with Regent Street, Hampstead, Hammersmith and Hyde Park, and even knew some of the night spots in Soho! (All these details, incidentally, did not figure in the book.) To be fair, Mr Naipaul heard them all out with utmost patience. He was a good listener and even studied the press clippings shown to him closely. 'Look, we are even covered by the English papers,' one of the gang members told him with a measure of pride. I was asked if I was going to write something about this particular visit in my paper. If I did I was not to forget to send the gang 10 or 15 copies of the paper.
After well over an hour, we took our leave. On the drive back to the Taj, Mr Naipaul asked me whether the people he met were simply bragging. I said I knew that they were even deadlier than they presented themselves to be.
After bidding him goodbye, I rounded off the evening at the Gokul bar, a refuge of journalists and ad men in one of lanes behind the Taj. It was an inexpensive place and if you didn't mind the heat, noise, and the Formica table tops, you could have a drink that wouldn't pinch your wallet. 'I was with V.S. Naipaul,' I told one of my copywriter friends. He initially didn't believe me. Later, perhaps to cut me to size, he offered this one liner: 'Remember, like all of us Naipaul also rearranges alphabets from A to Z in different patterns.' I knew he certainly did just that, but far better than any of us.
There were a few spin-offs after Mr Naipaul's India: A Million Mutinies Now (Penguin) came out in 1990. Among them was an offer by David Davidar (then editor of Penguin India) to co-author with a common friend a book on the history of Bombay's underworld. We warmed up to the task and found that researching about organized crime was relatively easy till one came to the Dawood–Chota Rajan–Amar Naik period. To give the book authenticity and freshness, we had to go beyond the press clippings and police records and sit down with the gang members for extended periods of time, rather than talk fleetingly with them over the phone. This is where we ran into a problem. We were advised that unless we had a letter from a very senior police officer stating we were writing a book, we could be arrested for spending time in the company of gangsters.
I thought I could easily manage such an official note and approached a senior police officer. He heard me out but was not particularly helpful. 'Mr Pillai,' he said, 'we can give you no such letter which provides you any immunity. Of course, you are free to write your book. But if you get into trouble that's your problem—consider it an occupational hazard. This is your private project. You have not been commissioned by the police to write it.' He then went on to say that when a reporter is on the war front, no army gives him the guarantee of safety. 'Think of it like that,' he said as he showed me the door.
I recall mulling over what he said. It suddenly didn't look as simple as we had originally thought it would be. Those were the days before the 1993 riots and bomb blasts, when sections of the police were allegedly on the side of the underworld and were not very helpful. We decided it was not worth it—if the risk was spending time in jail under some draconian law, we'd rather not write the book. The project was called off and I got back to reporting on Maharashtra state politics.
Mr Naipaul's book, however, sprang another surprise. Someone I had known years ago in Trivandrum (now Thiruvananthapuram) called me out of the blue. I had joined the Pioneer, under Vinod Mehta's editorship by then, and all of us were waiting for the redesigned paper to be launched in Delhi at the end of 1992. When the call came, I was initially surprised. 'Can you come and see me? I have lot to talk to you about and a lot of catching up to do,' the voice at the other end said after introducing himself. I took down the address of a hotel in Khar where he was staying and took a train headed there.
After we went over the good old days at the Indian Coffee House—the once iconic adda, a popular hangout for intellectuals and wannabe intellectuals at Spencer Junction in Trivandrum – he told me a bit about himself. He was based in the Gulf but had business in South Africa, among other places. Apparently, he had called me after he learnt that I was in the media and that my name had found mention in the acknowledgements of V.S. Naipaul's book. 'I believe this Naipaul is a big writer. I have not read his book—I can't read these fat books,' he said candidly, pulling at his cigarette. The associate who had accompanied him from Dubai hovered innocuously in the background, poring over a file of documents.
As the conversation warmed up, he told me he was a muchtravelled man. 'I can go anywhere, except in this country, my country,' he said, his voice choking with emotion. 'I am a wanted man here under COFEPOSA (Conservation of Foreign Exchange and Prevention of Smuggling Activities Act). Today, if I were to step off a plane at Bombay airport, there is every chance of my being caught. That's why we had to make an illegal entry by yacht—Bhai's yacht—we got off the Gujarat coast and drove down here. Would you believe that?' I had heard about gangsters who had fled to the Middle East returning home on short visits using the sea route. But was my old acquaintance a Company man?
He said he had several friends in Dubai. But unfortunately they were in the bad books of Indian authorities for reasons he chose not to elaborate upon. 'If you are in business, you get targeted for no rhyme or reason,' he said, adding that he had to sort out the mess he was currently in because it was no fun living the life of a fugitive. 'Do you know someone in the Law Ministry or the Home Ministry in Delhi?' he asked after a long pause. I said I didn't. 'So why are you a journalist?' he wondered. I had no reply. He said journalists ought to have connections.
He then put through a call to Thaki (Thakiyudeen Wahid, managing director of the erstwhile East West Airlines, who was later shot dead by hired killers outside his Bandra office in 1995). 'This is Bhai,' he said imperiously, 'I'm in Bombay…yes, yes, that's how I have come. I want four up and down tickets to Trivandrum. Will you arrange it? Thank you.' He hung up and turned to me 'That's Wahid, the boss of our airline—East West. You must have heard of it. If you ever want a free ticket, call him. Just give my reference.' Then he went on to tell me of a hotel in Juhu which he knew very well. 'That's almost like our hotel.' He took out another cigarette and lit it. 'We have lot of clout.' He claimed a woman journalist in a weekly paper was appointed by his Bada Bhai. 'She was a secretary there (in Dubai) and now she is a journalist. I know her editor—do you know him?' With that he dropped a name. 'If you want a change of job I could help. After all, this Pioneer you are working for is not such a big paper.'
I did not respond, but he continued to ramble on. Finally, he said he had an appointment with a leading lawyer and asked his associate to take the briefcase with the papers. That's when I thought I must beat a retreat to my office at Nariman Point. I filed a story for the Lucknow edition of the Pioneer about the strange man from the underworld who had made an illegal entry into the country in a yacht. It was buried in the inside pages. The Trivandrum man did leave me a visiting card with a number. I tried to call him a year later, after the 1993 blasts, but the voice message said that the number didn't exist. I then heard of him more than ten years later—he apparently died in his newly acquired Dubai flat after a luncheon party. The cause of death: a massive heart attack.