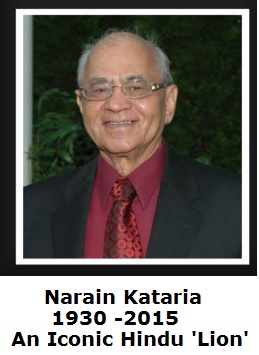 ---
"Narain Kataria , one man army , working  fearlessly and tirelessly for last  forty years for galvanizing  Hindus  to uphold the rights of Hindus and protest the injustices to Hindus anywhere" – Pabitra C
---
"Katariaji was a master organizer, yet he was not a man of organization. He told me, Are bhai, main kaam kar leta hun, par muze aur zanzat pasand nahi." (I accomplish all the work but I cannot stand all the rules and constraints of an organization.) Thus he had excellent relations with some of the premier organizations, Vishwa Hindu Parishad of America (VHPA), Hindu Swayamsevak Sangh (HSS), Overseas Friends of BJP (OFBJP), Paramshakti Peeth (of Sadhwi Ritambharaji), Ekal Vidyalaya, etc., but he was not bound by any of them." Gaurang V
---
"Most distressed to hear of the passing of Mr.Kataria. He was an indefatigable warrior for the Bharatiya cause. I had the honour of meeting him on my visits to the US. India has lost a very powerful voice in the US. I wish to convey my heartfelt condolences to his family" – A.Surya P 
---
"I have known Kataria ji since 2007 when I first spoke at OFBJP meeting about how only Hindu temples are under Government control and how thousands of acres of land that belonged to temples in Andhra Pradesh are being grabbed under Hindu Endowment department.   Kataria ji quickly took me to his side and introduced me to other activists.   Since then Kataria ji and I worked on so many movements from Sonia Gandhi protest in 2007, faced together multi-million dollar lawsuits .    He was fearless and never once I have seen him hesitate to give his name and stand up.   For more than 25 years Kataria ji worked for India and Hindus."– Satya
---
 " More, I want you to know, if you don't already, of Narain, who spent that last quarter century of his life, his "retirement", as a passionate freedom fighter for Hindus worldwide, for India, for all who suffer from Islamic terrorism" – Elsa
---
"I join you all in this day of mourning, sadness and irreparable loss with the demise of Kataria ji. a great dedicated, fighter" – BHAGWAT G 
---
"Indeed a grave irreparable loss, a void which shall ever remain in the heart of all nationalistic souls. I fondly remember my countless interactions with him between 2011 & 2013 and his ever polite & warm respectful demeanour even towards a young person like me ever accommodating my thoughts, always ever encouraging the efforts and showering his blessings and over generous praise for even little contributions I could afford. We extracted a mutual promise to be seeing each other soon sometime in future if time permits…alas which was never to be!" – Abhishek
---
"It is great loss He will be remembered as a devoted worker to uplift Indian culture" – Chandra P
---
"It is a huge huge loss! Kataria ji has been such a great source of strength in the cause of our nation. His messages spread the spirit of our religion and culture world over. I hope and pray our nation bestows an appropriate honor upon him to make sure he is remembered for his great services in motivating us always to keep our Head high.. We have a long way to go to achieve the real Hindustan. I am sure his noble Soul shall continue to guide us. In grief and condolence"  Mohan S
---
"Narain Kataria was great Warrior Of Hindu Dharma" – Vijay K  
---
"Very sorry to learn of his tragic passing away. May his soul rest in peace and his memory empower all of us who admired his courage and activism. Deep condolences to his family and friends" – Gautam S 
---
"Katariaji was a true nationalist & a champion of Hindu cause…. we should all today pledge to work for the Hindu cause & carry on the fight which Narainji was fighting , a real tribute to him would be to fight unitedly for Hindu cause to fulfill  his dream which he cherished so much" – Rohan K 
---
"A grievous loss to all those struggling to counter the multiple onslaughts on Hindus and Sanatan Dharma. My sincere condolences to the bereaved family" – J Sharma 
---
"Deep condolences for a brave soul, who I am sure would be keen to return as soon as possible to continue the great work as part of his next life. We will look out to spot a new Narayan Kataria in the near future!" – Bal R 
---
"i join you all in this day of mourning,sadness and irreparable loss with the demise of kataria ji. a great dedicated, fighter. I pray for peace" – Lal  G 
---
"May his Soul rest in peace. World has lost a human being who fought for justice and protection of Hindus suffering from fundamentalists, barbarians" – Prof.S Bhatt. 
---
"I met Narain Kataria ji many times during his DC Hindu events, where he attentively listened to the misery of Bengali Hindus in Bangladesh and West Bengal and released some news I sent him to his contacts.A gentle good heart and disciplined man and ideologically clear. He had good friends and well wishers worldwide.  Maa bless his soul!"   – A Chakrabarty
---
"Narain Kataria ji was a relentless crusader for the cause of anything that was related to Hindu interest. A survivor of the Holocost of the Partition of Bharat, he had made the democratic fight for Hindus his life mission. He, being a warrior for Dharma, founded, along with his friends and associates, a few fora to carry on various public activities which have become dependable supporters and shelters in US for Hindus world over. He was a very kind, affable and lovable human being. He practiced the message of Bhagavad Geeta in life in every aspect. He was a jnan yoddha, a karmayogi and a stitapragna. It is nigh impossible to fill the void created by his passing away.
The fate has turned the coming Deepavali a dark one – Dattah H , RSS 
---
"Although he was 83, he was so energetic , it's hard to believe that he is gone.
We have to carry on the torch that he was bearing.
May God bless his noble soul" – Susheer G
---
"Shri Narain Kataria Ji was  a true Hindu soldier and always in the front line to work for all Hindus .The true SHRADDHAJALI  to him will be to work unitedly  to fight for the  Hindus cause  with TAN,MAN and DHAN " –  S Sharma
---
"Katariaji was the architect of fighting for Hindu Rights the world over and especially in the USA. This is a big loss to the Hindu world. May his soul rest in peace at the feet of the Lord, and may his good work be continued by those in the organisations formed by him" – Krishnamurthy
---
"It is difficult me to believe about the loss of a known colleague in USA and RIP for departed soul and aggrieved family /friends circle. It's a great loss to an India Diaspora specially to united HINDUS of the world! L. Thapa 
---
"Katariaji, Was an institution all by himself, he was full of wisdom,energy and courage. He led a war for the survival of defeated Hindus of India,Pakistan and Bangladesh. We really lost a commander in chief in war against radical Islam and camouflaged so-called secular atheist Christian & Hindus of India. He was an idol moderate Hindu,who was extreme passionate to other faith at the same time. A very rare distinct dedicated person, who committed his entire life for the well being of humanity. We have lost a great person,leader,organizer and patriot. There will be defficult to find his replacement. May Lord Krishna salvage his soul in peace" – Sachin K
---
"A great loss to Hindu community" – Sunil K
"I express our deep concern on demise of Respected Kataria Jee on behalf of 90 Crore Hindus in India. His contribution for Hindutva will alwyas be remember"– Dilip S 
---
 "We Salute the meritorious services rendered by Shri NarainKatariaji to Hindu community.He has been a source of strength to all of us. May The Lord Krishna bless his family"  – Sudhir S 
---
" My  Heartfelt  Condolences to  ALL of  Katariaji's  ~  family  &  friends,  who  loved  him!  May his  Soul  rest  in  Peace!   Indeed,  it  is  a  great  loss!  Now,  the  only  thing  we  can  do,  is  to  step  up  a  notch  or  two,  in our efforts  to  continue  his  work  for  Hindus — Sanatan  Dharma! "
 —  Asha 
---
" So no more mails from Sri Narayan Ji Kataria. The news is all of a sudden and most saddening. He did so much to his beloved mother i.e. Bharata Mata. He was an untiring crusader in Hindu interest. Let him not have a Punarjanma. With all respects to Kataria Ji" – KRR   
---
"All his mails were in the best interests of the Hindus. 
All of us will miss him. "   – Bhalchandra T 
---
 "IT IS AN IRREPARABLE LOSS TO THE INDO-AMERICAN PARTICULARLY TO THE HINDU COMMUNITY OF AMERICA.
FOR THE PAST SEVERAL YEARS I HAVE WORKED WITH SHRI KATARIA. IN VIEW OF HIS INEXHAUSTIBLE RESERVOIR OF ENTHUSIASM, VIGOR AND EVER READINESS TO HELP KATARIA WILL BE REMEMBERED BY ALL OF US FOR EVER. SOME OF YOU MIGHT REMEMBER THAT AT TIMES I USED TO ADDRESS HIM AS GENERAL KATARIA. THIS
TILE WAS AWARDED TO HIM FOR HIS UNTIRING ACTIVISM, SHARP PERCEPTIONS AND EXCEPTIONAL ABILITY TO ORGANIZE. AND HE LOVED BEING CALLED A GENERAL.
 HE AND HIS FIGHTING BRIGADES HAVE ALWAYS EXTENDED FULL SUPPORT TO THE ISSUES AND CAUSES OF KASHMIRI PANDITS. AS A VICTIM OF PAKISTANI ISLAMISM HIMSELF HE FULLY UNDERSTOOD THE PAIN AND PROBLEMS FACED BY KASHMIRI HINDUS WHO WERE EXPELLED FROM THEIR 5,000 OLD HABITAT BY THE KASHMIRI ISLAMISTS WITH THE ACTIVE INVOLVEMENT OF THE JIHADISTS FROM ACROSS THE BORDER.
 THE PANDIT COMMUNITY WILL REMAIN GRATEFUL FOR EVER TO KATARIA JI FOR EDUCATING AMERICANS, INDO-AMERICANS AND PARTICULARLY THE HINDU SAMAJ IN NORTH AMERICA ABOUT THEIR ETHNIC CLEANSING, GENOCIDE AND THE TREACHEROUS POLICIES OF THE INDIAN AND JAMMU & KASHMIR GOVERNMENTS FOR DEALING WITH THIS UNPRECEDENTED HUMAN TRAGEDY.
 WE ARE GOING TO MISS HIM SORELY HE WAS MY COMRADE IN ARMS.
WITH A BROCKEN HEART" – JAGAN
---
 'Guest Book' of new website we are constructing for Narain 

Kataria

 ji athttp://NarainKataria.com.    NOTE:  Tributes to 

Kataria

 ji is not only coming from Indians across the world, but also from many non-Indians.  Giving below few links from some of them.  
One can send us pictures/videos of your condolence meetings in one of the following manner:
1) Post it on Narain 

Kataria

 facebook page at
3) Possibly directly at 'Guest Book' link on Narain 

Kataria

 ji website http://NarainKataria.com  if 'Guest Book' link is available.
---
Disclaimer: The opinions expressed within this article /news /published content are the personal opinions of the submitting author / organization. World Hindu News is not responsible for the accuracy, completeness, suitability, or validity of any information on this article /news/published content. All information received is provided on an as-is basis. The information, facts or opinions appearing in the article / news /published content do not reflect the views of World Hindu News and World Hindu News does not assume any responsibility or liability for the same.