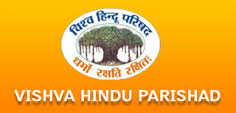 Vishva Hindu Parishad (VHP) president Praveen Togadia said here on Sunday that the 'organisation would not allow conversion of Hindus as it would 'downsize' their population. "Hindu culture and people are safe only if they remained in the majority," Mr. Togadia said.
At the same time, he said Hinduism was ready to admit anybody from other religions willing to embrace the particular 'way of life.' He called for fighting untouchability in rural areas by "encouraging and ensuring entry into temples for all and drawing of water by all communities from the same source [well]."
"The first guarantee of Hindus' safety and security is their majority and the second is to have a Hindu government in the country," he said at 'Bhagyanagar Hindu Shakti Sangamam,' a public meeting organised to mark 50 years of the VHP.
Expressing concern at the 'large-scale conversion' of Hindus, the VHP leader said Hindus formed '100 per cent of the population' of undivided India once but it was down to 82 per cent now in India itself. Similarly, the population of Hindus in Bangladesh was down to just 2 per cent from 8 when it came into being and from 10 per cent to just one in Pakistan.
'Will not allow
their conversion to other religions'