Ganesh in "Gods of Suburbia"
The latest series by Vancouver photographer Dina Goldstein has received backlash from at least one Hindu group for her depiction of the religion's gods.
In "Gods of Suburbia," Goldstein takes well-known religious figures and sets them in the 21st century. Included in the series are Hindu gods Ganesh and Lakshmi, who some Hindus say are wrongfully represented.
"Reimagining Hindu scriptures and deities for commercial or other agenda was not okay as it hurt the devotees," Universal Society of Hinduism president Rajan Zed said in a statement on Saturday. "Ganesh and Lakshmi and other Hindu deities were meant to be worshipped in temples and home shrines and it was not appropriate to unnecessarily drag them around to push your personal interests."
Zed, who is based in Nevada, said that Hindus welcome the art world to explore their faith but that artists need to be more sensitive when handling religious subjects.
Goldstein acknowledges that her work is open to interpretation but believes that living in a democratic society allows her to express herself freely.
"Not everyone today has this privilege so I choose to exercise this within my art," she told The Huffington Post B.C. in an email on Monday.
"If you look at it rationally, there is no reason why people's beliefs are not open for debate. Religion hides behind ideas that are considered 'sacred and holy.' The problem is that there are so many doctrines and sub doctrines existing today, with everyone thinking that their belief is omnipotent. Organized belief has always been divisive on a global scale."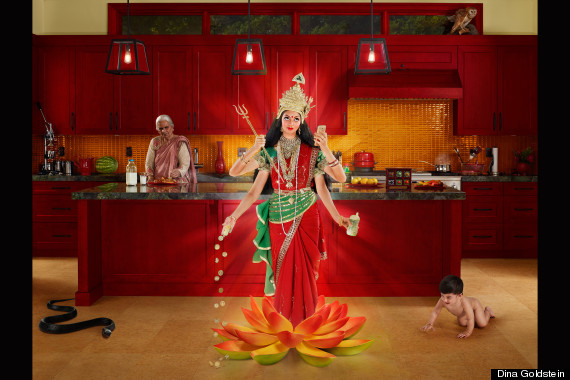 Lakshmi in "Gods of Suburbia"
Goldstein is known for her controversial work, which also includes "In The Dollhouse" and "Fallen Princesses."
She spent a few weeks in India in 2012, which she said was where she became "captivated with the prominence of religious deities in society and in people's personal lives."
Ultimately, she hopes her "Gods of Suburbia" series "will open a reasonable conversation about religion today."