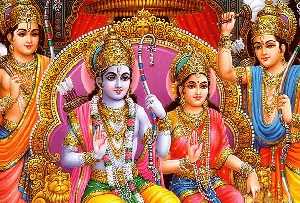 Vishwa Hindu Parishad(VHP) sponsored ' Ram Barat' today left for Janakpur in Nepal after religious ceremony at the Karsevekpurm.
VHP president Ashok Singhal and Ram Janambhoomi Nyas president Mahant Nritya Gopal Das flagged off the 'Ram Barat' at 0830 hrs.
Mr Singhal said Ram Barat is an old religious function which marks the marriage of Lord Ram with Sita.
VHP spokesperson Sharad Sharma told UNI here today that the Ram Barat will reach Janakpur, the ancestral place of Sita in Nepal on November 24 after crossing through Azamgarh and Ballia in Uttar Pradesh and then will enter Buxar, Patna, Muzaffarpur and Sitamarhi in Bihar.
Mr Sharma said around 125 people would be joining the Ram Barat mostly sadhus and saints from Ayodhya and will return back to Ayodhya on November 30 after the marriage on November 27.
He said Prime Minister Narenda Modi is expected to attend the 'Tilak' function at Janakpur on November 25.
Mr Modi will be in Janakpur on the day during his participation in the SAARC conference in Nepal.
Though there is also some reports that the PM could also join the Ram Barat at Sitamarhi in Bihar on November 24.